Whether you want to shake up your existing space or tear it all down and start from scratch, our nursery ideas, tricks and styling tips will turn a boring old spare room into a calm, yet stylish space for baby. Now, what are you waiting for? Let's decorate your nursery…
---
Tips & Tricks to Decorate Your Nursery
Designing your nursery can be one of the most memorable and exciting things to do before baby arrives, but it can also seem like such a daunting task – do you go with the Duck Egg Blue, or the Dragon's Breath Mauve? But it doesn't have to be this way. When it comes to nursery decor, there is no right or wrong, as long you and your little one are safe and happy.
However, if you're looking for a bit of direction, we've put together a handy guide of baby room ideas, that will help you create the perfect nursery space for your newborn.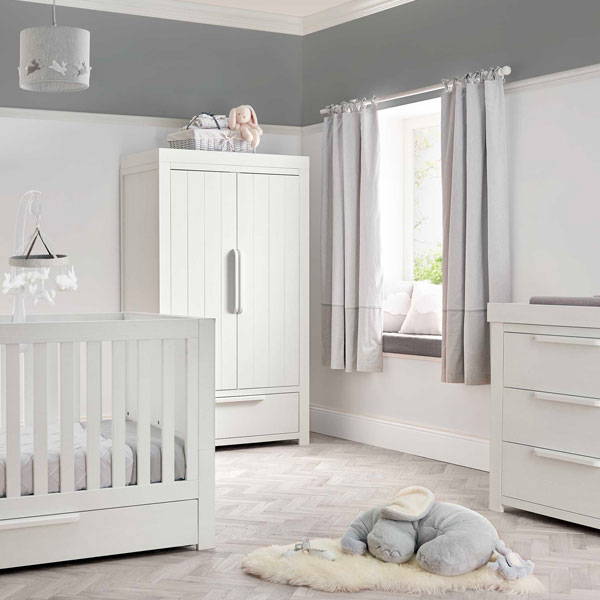 Although it's easy to get carried away with paint swatches and fabric samples, the first step towards designing your perfect nursery is choosing the right room. Ideally, your nursery should be near to your bedroom so you don't have far to walk at night – no one likes to stagger around blindly to reach the East Wing. The room should be well heated if you live in a cold area, and well ventilated if you live in a hot area. If the room enjoys a lot of natural light, you might want to invest in some blackout curtains so your baby can enjoy uninterrupted sleep (which means you will too!).
Make sure to take care of any sticky doors or creaky floorboards that could be a nuisance once baby arrives, and consider fitting a dimmer switch to make it easier to turn out the light without waking your baby during precious sleep.
Once you've chosen your space, make sure to measure it. If your nursery room is big enough, consider dividing it into two sections: a cosy section for sleeping and more fun and a stimulating section for play. Big furniture pieces are great for breaking up big space.
---
Create a Mood Board
This is where you go all Grand Designs – let your imagination fly. A mood board is the perfect way to direct your creative flow and collate your baby nursery ideas. Once you've chosen the room, search around online for designs, colours and furniture pieces you like and collect images together to create themes. Make Kevin McCloud proud!
Remember to keep the colour scheme quite neutral as you want to create a relaxing and calm environment for your little one.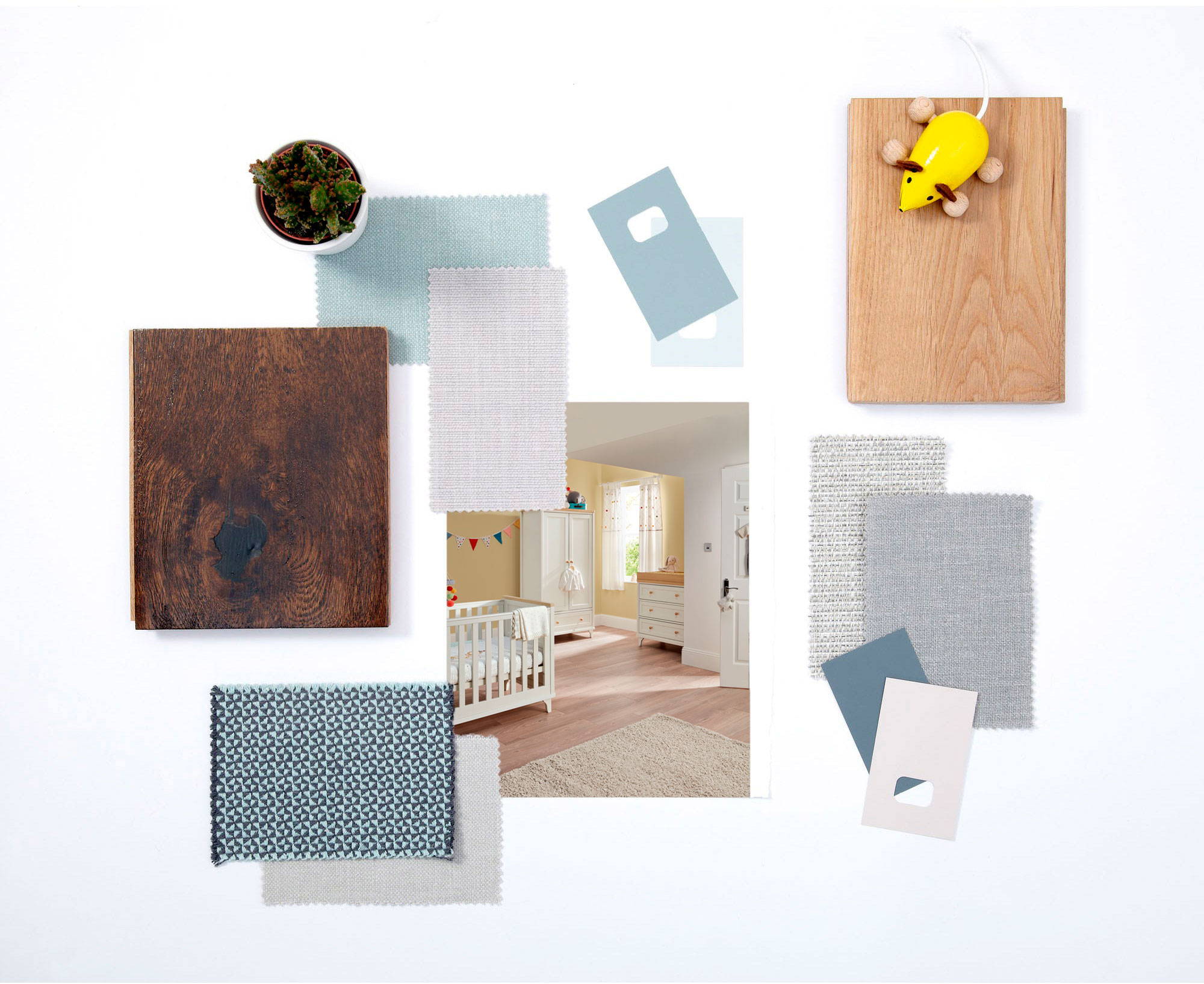 If you're dividing your nursery, adding some bright patterns to the play side of the room will draw your baby's attention and keep them stimulated, while calmer patterns and colours on the sleep side of the room will help them drift off. Pinterest is an amazing site to gather nursery information on as many boards as you like.
Once you've created your boards, it's time to measure the room to understand where key pieces of furniture like a cot, a nursery wardrobe or a baby changing unit could fit. If you buy before you've measured, putting them all together is like a giant, and not particularly fun game of Tetris.
---
Buy Staple Pieces First
It's much easier to fit decor products around furniture than it is the other way around. Let your chosen furniture be the centre of your mood board and build design ideas like paint, wallpaper and fabrics around it.
Your nursery needs to grow as quickly as your little one, which, trust us, is fast! Major furniture pieces, like cots, dressers and storage, are likely to be with your little one for a while so keep that in mind when buying. Try to choose timeless styles and colours and be smart with your purchases: choose things that can be used for other roles. For instance, choose nappy storage than can be repurposed once your little one outgrows them like open bins, or opt for a cot that converts to a toddler bed.
If you're planning to expand your family in the future (I know, we're rushing ahead), think about getting furniture in a gender-neutral shade so they can be easily repurposed.
Don't forget your nursery chair! After all, you'll be spending a lot of time in the nursery too. A nursery chair is essential for nursing as well as reading and all-important cuddle time. Choose a chair with enough room for you and your little one to sit comfortably with armrests to support you both. A rocking chair is perfect to create a soothing motion to help your little one drift off.
---
Decorate Your Nursery
Storage, Storage & More Storage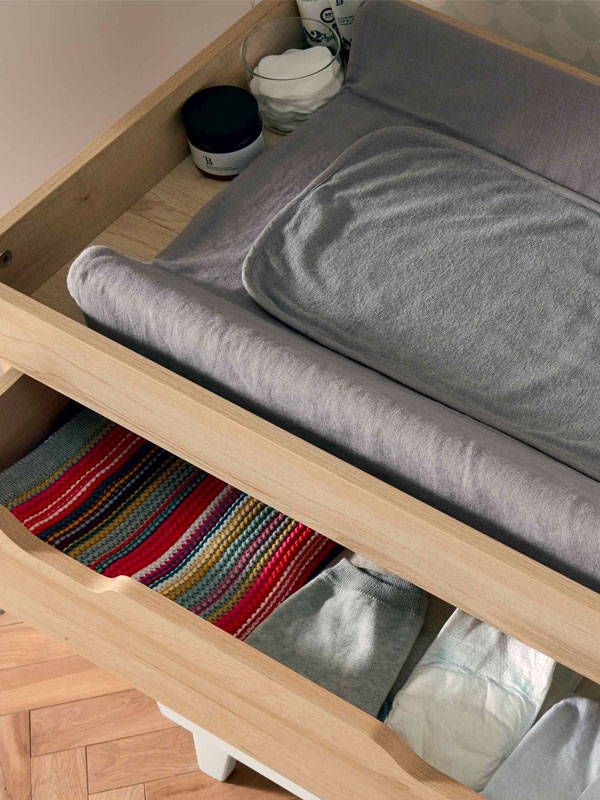 How can such a tiny person need so much stuff?! It's a mystery, but as a parent you'll need to be prepared for the mountains of nappies, clothes, and bedding your little one will need, not to mention all the gifts they'll be getting. Oh god, the gifts!
You'll need to kit your nursery out with loads of smart storage solutions. Under-cot storage is perfect for baby bedding essentials and uses space that is otherwise wasted. Definitely consider shelving to keep those non-baby-friendly items, like sanitisation products or changing toiletries, out of your little ones' reach. Bookcases paired with open bins are perfect for storing soft items like toys or blankets. When your child gets a bit older, you can take out the open bins and store books and toys instead.
For clothing storage, choose a chest of drawers or a wardrobe, or both! Make sure you have enough storage to stock up on nappies, bedding and anything else your little one might need.
---
Decorate Your Nursery
Decor
Now that you have the functional nursery furniture picked, it's time to decorate! Grab that roller and let's get going.
Textiles, wallpapers and decorations are the things that bring your nursery together and make a room feel homely. If chosen well, decor can tie all your other pieces together and complete your nursery. There's nothing worse than finding the perfect set of curtains and then realising they don't match your wall paint, so we recommend choosing your textiles and wallpaper before deciding on a paint colour (though the lads in the DIY store might feel differently when they still can't nail that shade of Orange). Finishing touches, like cushions and blankets, can come last as they can be easily matched to everything else.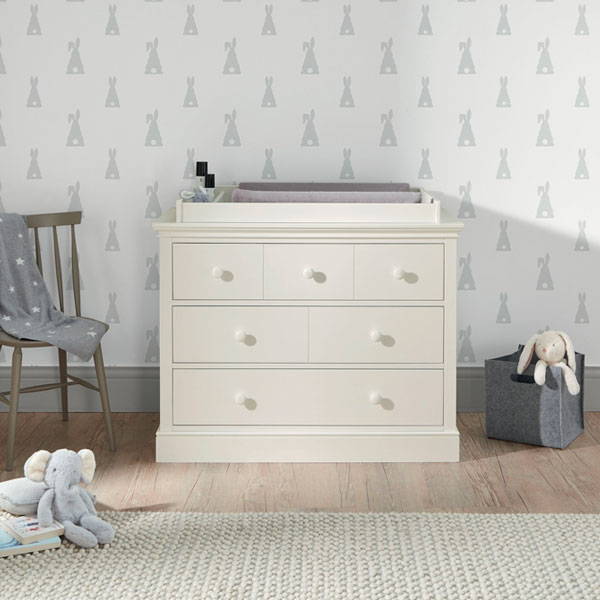 Wallpaper and Wall Murals
These are great ways to add colour and texture to your nursery. Whether you want an accent wall or wallpaper all-round, remember to keep the colours neutral and the patterns not too stimulating. Our range of wallpaper features calming patterns and prints perfect to create a soothing atmosphere.
Curtains
It's so important to use blackout curtains for your nursery, not only to help your little one get their all-important shut-eye but also to keep the room cool in hotter weather. Choose a curtain design that ties well with the theme of the nursery. Curtains in a light shade open up the room and make it feel more spacious and calm.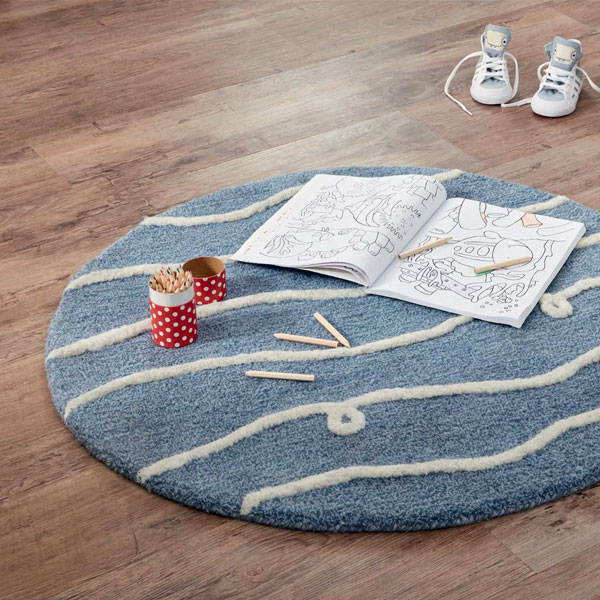 Rugs
Rugs are a great way to add some extra personality to your nursery in an otherwise plain space. Choosing the right rug for your nursery depends on the flooring: if you have wood flooring it's best to opt for a thicker, plush rug to give baby some extra cushioning when sitting and playing, whereas if you have carpets; opt for a weave rug to add colour without the extra bulk.
Lamps
You'll want to keep the lighting in your nursery soft and gentle. Night lights are a must to help your little one sleep and even more so to help you with those nighttime feedings.
Having a lamp near your nursery chair can be really useful for night feeds as well – have you ever tried to find a nipple in pitch black? Lamps don't just have to be practical, they can be stylish as well. Choose a lamp that accents your decor but is also fun for your little one.
---
Decorate Your Nursery
Finishing Touches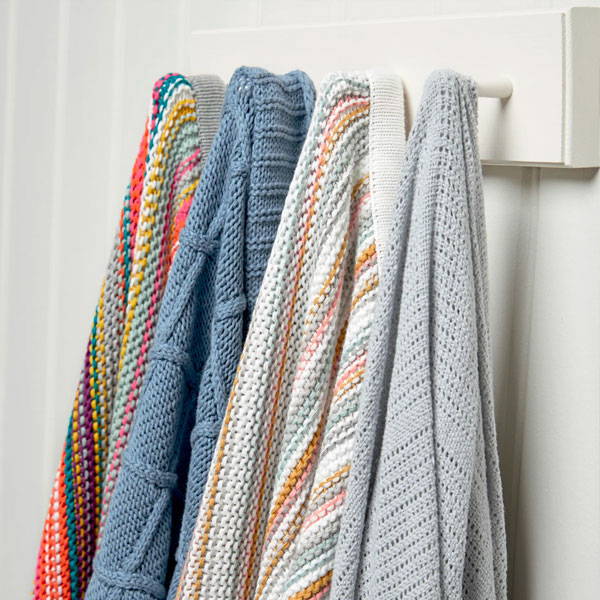 Adding blankets, pillows and mobiles can really bring a nursery together. Choose colours and patterns that fit in with your vision to tie all your hard work together.
If the idea of decorating your nursery yourself is daunting or you're running low on time, that's where co-ordinating ranges come in handy. We offer a range of co-ordinating nursery collections. Each collection features pieces that compliment each other perfectly.
---
Safety
Your little one's safety is without doubt the most important thing when designing their nursery. Babies are naturally curious little explorers, so it's vital to keep their environment baby-friendly. We recommend baby proofing as you go, this way you can incorporate safety into the design. Easy ways to baby proof as you decorate include choosing furniture with rounded edges, securing furniture and rugs and fitting high shelves to keep dangerous things out of your little one's reach – and pretty soon they will start reaching!
---
Remember, more than anything your nursery is part of your home and should reflect you, your baby and what you love. There's no right or wrong way to decorate as long as the general vibe is relaxing and calming. If you and your growing family are happy then it's perfect!
Found this guide useful? Feel ready to decorate your nursery? Take a look at our nursery furniture.