From driving your newborn home from hospital to heading off on your first family staycation, you need to feel confident that your little one is strapped in safely. But with so many types of car seats out there, we know how confusing to it can be to figure out what's going to be the best car seat for you. So, we've broken down the different types of seats, the latest safety standards and the most helpful features to look out for when you're shopping around.
---
Finding the perfect fit
Which Car Seat Do I Need for My Child?
To make sure your child is good to hit the road, you need to work out what type of car seat you need. Seats are currently categorised into groups, which are determined by your child's weight rather than their age. This is known as a weight-based safety standard, and they can be fixed inside your car using a more traditional seat belt fitting, or with an Isofix base that attaches to the frame of your car – these are generally a little easier to use.
To get you started, below is a chart to guide you to the right size seat for your little one.
| | | | |
| --- | --- | --- | --- |
| Group | Child's Weight | Age | Height |
| | | | |
| | | 9 months - 4 years (rear facing) 4 - 12 years (toward facing) | |
| | | | |
| | | Birth - 4 years (rear facing) 4 - 12 years (toward facing) | |
---
Car Seat Safety Standards
It's good to note that weight-based groups are going to be gradually replaced by a new safety standard called i-Size, which uses the height of your little one to work out what type of seat you need. This is known as a height-based standard. To make sure you're covered when this becomes the new norm, we recommend buying a car seat that's got an Isofix base, which will make it compatible with the new i-Size standard.
We explain a little more about the differences between these standards below.
Weight-based standard:
These cars seats are categorised into weight groups, which make it really easy for you to work out which seat your baby, toddler or child should use. Here's how the groups work:
From 0 to 13kg | Group 0+
It's most likely that your newborn will fall into group 0+. This means that they must sit in a carrier or seat that faces towards the back window of your car, known as a rear-facing carrier. You can also use a baby seat that has a harness, or a lie-flat baby carrier – sometimes known as a lateral carrier.
If your newborn fits into this category then you must use a rear-facing seat or carrier. You won't be able to use a lie-flat baby carrier.
From 9kg to 18kg | Group 1
When your little one moves up to group 1, they'll be able to sit in either a rear-facing or forward-facing seat with a harness or safety shield. Although babies weighing in at the lower end of this group can sit facing forward, it's safer to keep your baby in the rear-facing position until they're around 13kg. This will help protect against any potential head and neck injuries.
From 15kg to 36kg | Group 2/3
At this stage, your child will be able to sit in the back seat of a car in a booster seat that has its own harness or uses a seatbelt to keep it secure.
Good to know...
Weight-based seats will have 'ECE R44' and a capital 'E' printed on the label – this means you can be absolutely sure that it meets the European safety standards and is safe for your little one to use. If you're opting for an Isofix base, it's also worth checking that your car is compatible. This can usually be found in your car's manual, or you can head over to your manufacturer's website to find out.
Height Based Standard
Known as i-Size, this is a new car seat safety standard that uses the length of your little one to work out which seat you'll need to buy. This will gradually replace the weight-based standard.
The i-Size standard requires your little one to sit in a rear-facing seat until they're at least 15 months old, when they can switch to a forward-facing seat. i-Size seats are also fixed using an Isofix base. These are much quicker and easier to use, so it's less likely that you'll make a mistake when fitting your car seat before you travel.
It's important to note that only EU-approved i-Size car seats can be used in the UK. You'll know your seat is good to go if it has 'R129' and a capital 'E' printed on the label.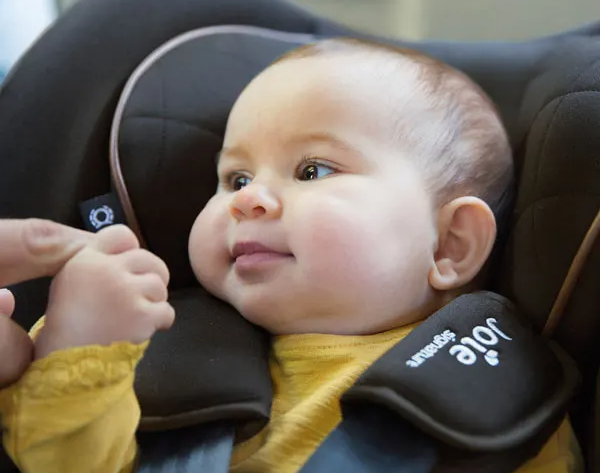 ---
Need more help?
What other features should you look out for?
Don't worry if you're feeling a little confused by these standards – there's a lot to get your head around. That's why we offer a free in-store Car Seat Consultation service. Our team are trained to know these safety standards inside out, so we can help you find the right fit and plan for the future changes in safety standards.
As well as making sure your family is safe to travel, car seats have plenty of other features that'll make those road trips a little comfier. We've picked out our top features to look out for.
Safety is key, but it's important that your baby has a comfy ride, too. Padded seats will give your little one extra cushioning, whilst reclining seats will lie back – perfect for getting them snuggled down for a nap on longer drives.
Some car seats offer side protectors and impact shields. Side protectors give extra protection against bumps to the side of your car, whereas impact shields are designed to be used when your child's seat is facing forwards, to protect against head on collisions.
If your car seat is easy for you to fit, it's more likely that you'll do it right, making it much safer for your child. Look out for models with an Isofix base, which are renowned for being simple to pop inside your car – great for when you've got your hands full! If you're not sure how easy a seat will be to fit, we offer free Car Seat Consultations where we'll show you how it works, and make sure that you know how to do it yourself.
You'll be the one carrying your car seat around, so it's important that you're able to lift it in and out of your car easily. Some seats weigh as little as 3 or 4 kilograms, perfect for when you're also carrying your changing bag or your shopping.
To make your life much easier, look out for a car seat that's compatible with your pushchair. This'll mean you can get your baby in and out of the car without disturbing naptime. If you've yet to buy your pushchair, it's worth shopping around for a travel system that includes a pushchair, car seat and carrycot – that way you'll know that everything is compatible.
This feature lets you choose whether your seat faces forwards or to the rear. It means your seat can swivel around, making it easier for you to get your little one in and out. Plus, you'll still be able to use it when your baby gets a little older and doesn't need to be rear-facing.  
We won't go into too much detail about how messy family road trips can get – we've all been there! Choosing a car seat that has removable covers that you can pop in the washing machine is ideal for keeping it nice and clean.
Adaptable Harnesses & Headrests
To make sure your little one stays safe as they grow, look out for harnesses and headrests that can be adjusted. Some will even let you remove padding to make a bit more room for growing toddlers.
---
Avoid second-hand car seats
We get that baby budgets can be tight, and a good deal on a second-hand car seat can seem tempting. However, it's highly recommended that you buy a brand new seat that you know complies with all of the latest safety laws. A used one may have been involved in an accident and have internal damage that you won't be able to see just by looking at it. Without knowing this, you can't be confident that it'll keep your little one safe.
If you've got a price in mind for your seat, book in for a free Car Seat Consultation and let us know – we stock seats from trusted brands to suit all types of budgets.
Try it before you buy it
Another great benefit of booking one of our free Car Seat Consultation service is being able to get hands on with a car seat before you buy it. We can offer you lots of advice and guidance when it comes to choosing the right seat, and our team have all been trained in the latest safety laws – you can have a go at fitting it inside your car. As well as offering our service before your baby is due, we can also check-up on your seat once your little one has arrived, or even when it's time for an upgrade.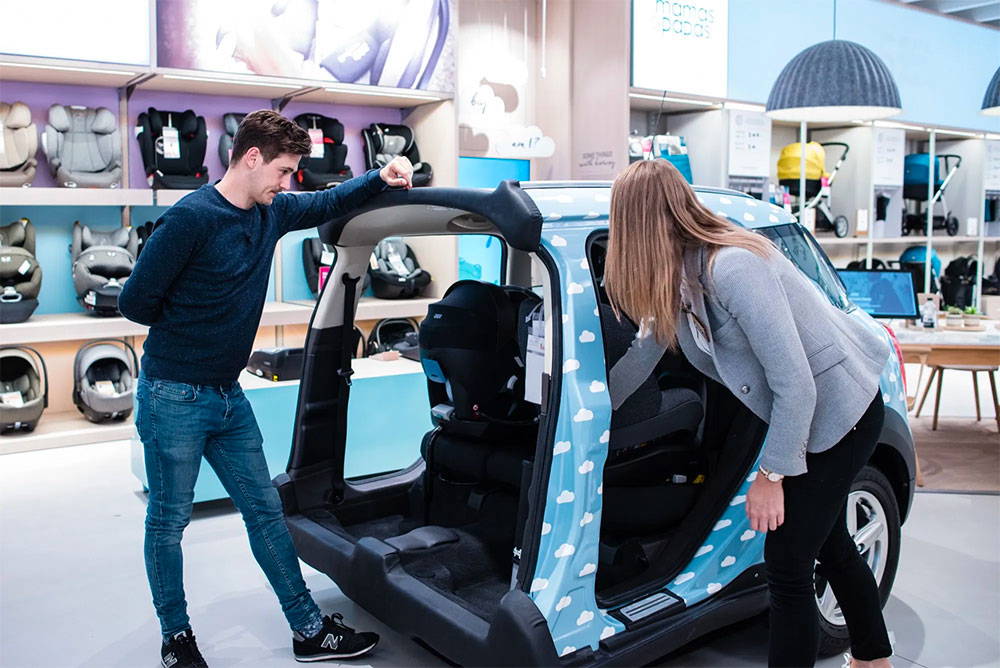 ---
Good to go?
Hopefully you're feeling a little clearer when it comes to choosing a car seat. Remember, once you've got the right fit for your baby's weight or height, make sure you choose one with features that'll make your life easier, too. We love a lightweight model – carrying all your baby bits around can be heavy enough without a car seat in tow! Once you've found your perfect seat, all that's left to do is plan those family adventures.