Kate, the founder from Mini First Aid, takes us through her best safety advice to help you and your little one on your weaning journey.
Lots of parents tell us that they're very nervous about weaning and are unsure on what things they can give babies from a safety perspective.
You can get a choke tester, one of my favourite pieces of kit we use at Mini First Aid, which comes as part of a home safety kit. It mimics the gullet (the back of the throat) of someone under the age of three. Across the top it's about 3cm and around 5cm down the long side. The rule of thumb is that anything that can fit in here is a choking risk for someone under the age of three.
We need to think about preparing foods, especially under a baby led weaning route. With this in mind, a disk of banana, a great snack for babies, fits in the choke tester perfectly, blocking the entire area, potentially making it a choking hazard for your little one. But if you prepare it differently and cut it into a stick which they can hold in their fist, it's longer than the choke tester, making it less of a risk because there is clear space around it for air to still pass through. We recommend cutting food into long thin strips over circular pieces/disks.
What is the difference between gagging and choking?
Parents often ask us about the difference between gagging and choking.
We have a gag reflex on the back of our tongue so when something is heading towards our windpipe, we gag and push it back into our mouth. For little ones, their gag reflex is further forwards than an adults'. It can sometimes be quite alarming but it is Mother Nature looking after them and ensuring that anything heading towards their windpipe is being pushed out. It's really important for little one's body to take care of that gagging motion by themselves.
The key difference between gagging and choking is breath. If my baby is silent and there is no breath, I know my baby is choking. If they're crying, gurgling or spluttering, it's a sign that air is getting in, so they're gagging, not choking. We say, if they're red, leave them to it! However, if they're looking blue, they're going to need help from you. If your baby has darker skin, this is usually more noticeable under the bottom of the lip. If they have lighter skin, their lips and the tips of their nose might be blue.
How do I deal with a choking baby?
As a parent, it's important to learn how to deal with a baby that is choking. I need my baby up and out of their highchair as quickly as possible, with their head supported and facing down. With the heel of my hand, you give baby up to five back blows. The important thing to note is that we need to force the object up and out the windpipe.
If the object isn't out, we turn them onto their back. We take our two fingers across the centre of their chest, and perform a chest thrust up to five times.
We work in cycles with this, working in rotation until the object comes out. Remember: we need to be shouting for help too!
We recommend investing in a Mini First Aid course with us to get comfortable and hands on with a mannequin to practice.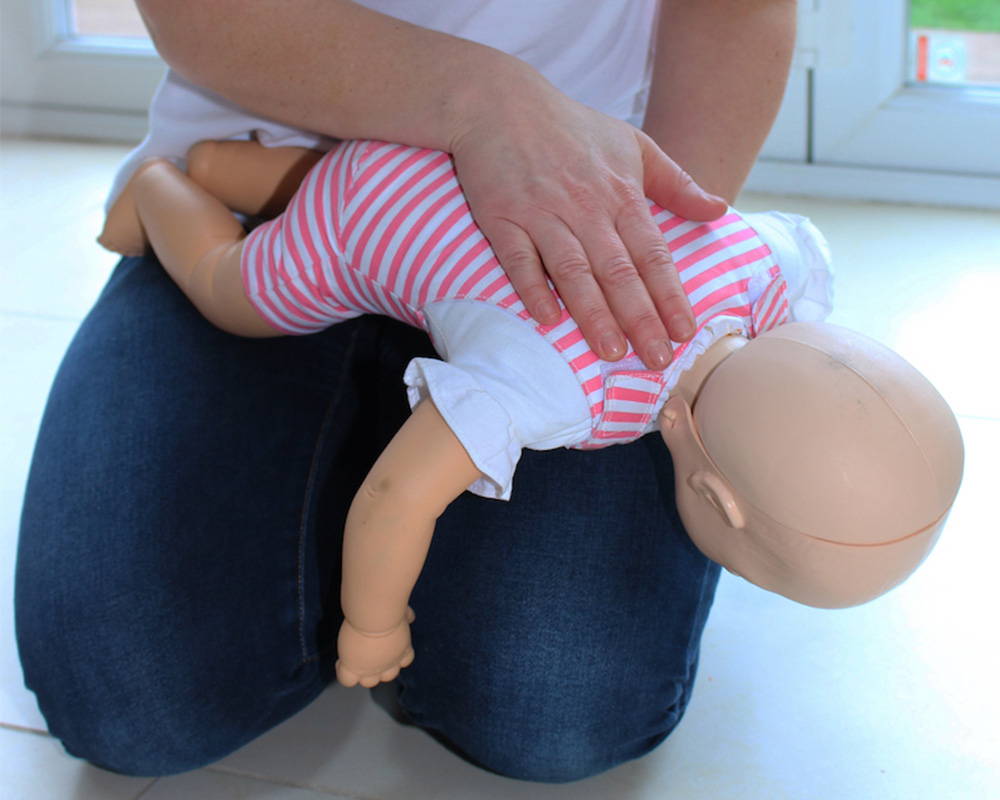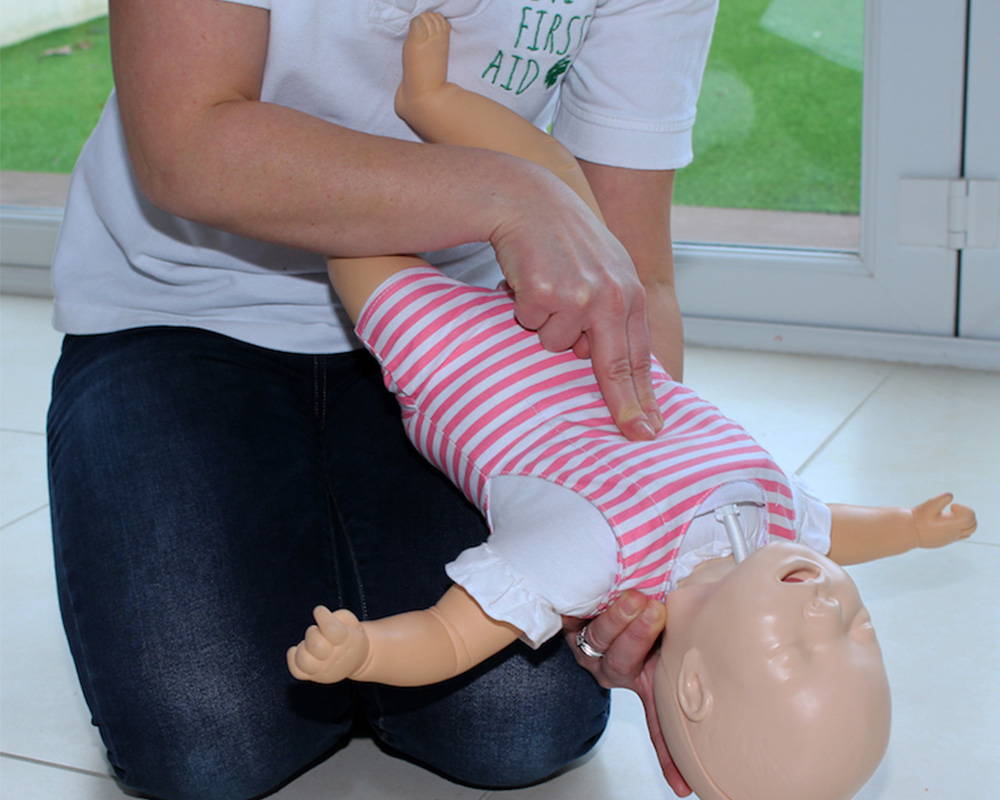 How do I practice safe eating at home?
One of our main rules for safe eating in our home is always sitting down to eat – whether it's a snack or a meal! When you're starting to teach about good, safe eating, the first rule is to make sure whoever is eating is sat down.
But what about the food? We need to make sure the fruits and veg we prepare are cut lengthways and not spherical. The same goes for cherry tomatoes, cucumber, peppers and blueberries, for example. Long, thin pieces of food allow them to hold on. Try and serve them something bigger than their fist with this in mind.
It's also really important for little ones, from the start of their weaning journey, that they learn how to chew their food properly. We recommend showing them what good eating practice is from the start – sitting on our bottoms, breaking our food up and chewing properly. You can really exaggerate the motion of chewing to allow them to imitate you. Sit, chop and chew.
You can find more from Kate and the Mini First Aid team on Instagram and at www.minifirstaid.co.uk.