Parents have been raving about the DockATot brand and recommending it to parents to be since it first came to market. Formally known as Sleepyhead, DockATot has been dominating the UK as a number one newborn essential. For those who haven't been keeping up with the news or are looking for insight into why this brand is so popular, here's everything you need to know about the beautiful world of DockATot!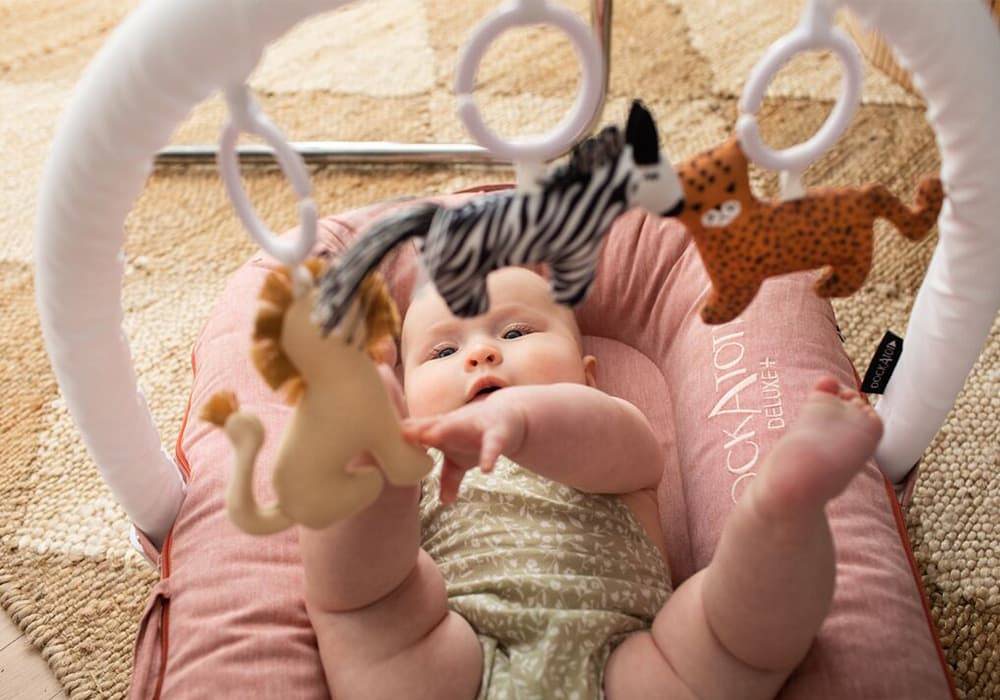 You might have heard of DockATot being referred to as a baby pod or Sleepyhead. The simple-looking but very specific design of a padded mat that is used for safely and protectively laying a baby down. Designed by a mother who needed somewhere to place her new baby when she couldn't hold him, the brand was born from a love of design and caring for little ones to help parents when they need it most.
With a long varying list of newborn must-haves, there's one big reason why a baby-lounger is on this list. It is true that it makes parenting easier. The most important thing that your child needs is nourishment, comfort and safety from their parent. Unfortunately, we can't always hold our children close to us and there are moments when we have to put them down. A fully portable baby-lounger with bumper sides for a reminiscent feel of the womb provides a safe place to lay your baby down. This becomes a familiar place where no matter where you might be, your little one can relax.
Where can a DockATot be used?
Your DockATot can be taken anywhere; indoors or outdoors and it's also a great choice when travelling. The Docks are lightweight and portable so that you can take your little one's safe space anywhere with you. From being placed next to you when sorting washing to being able to restart an exercise routine so you have time for yourself, the Docks ensure that you can have your baby with you and they can be comfortable and feel safe. When travelling, the Docks can be used with Getaway Tote to make transportation even easier.
A DockATot is more than just a baby-lounger and parents have been sharing their favourite ways to use them for years. Your little one should always be supervised when in the Dock and here are some of our favourite uses:
As the Docks can be used from birth, being laid in them becomes a place of safety for resting and relaxing during the day as they grow up.
The Dock is the perfect place for your little one to rest when the family wants to watch a film and be together.
Take it from experienced parents, there comes a peculiar juggling act when you need to use the bathroom. With the Dock at hand, you can lay baby down next to you so that this necessity doesn't become a difficulty.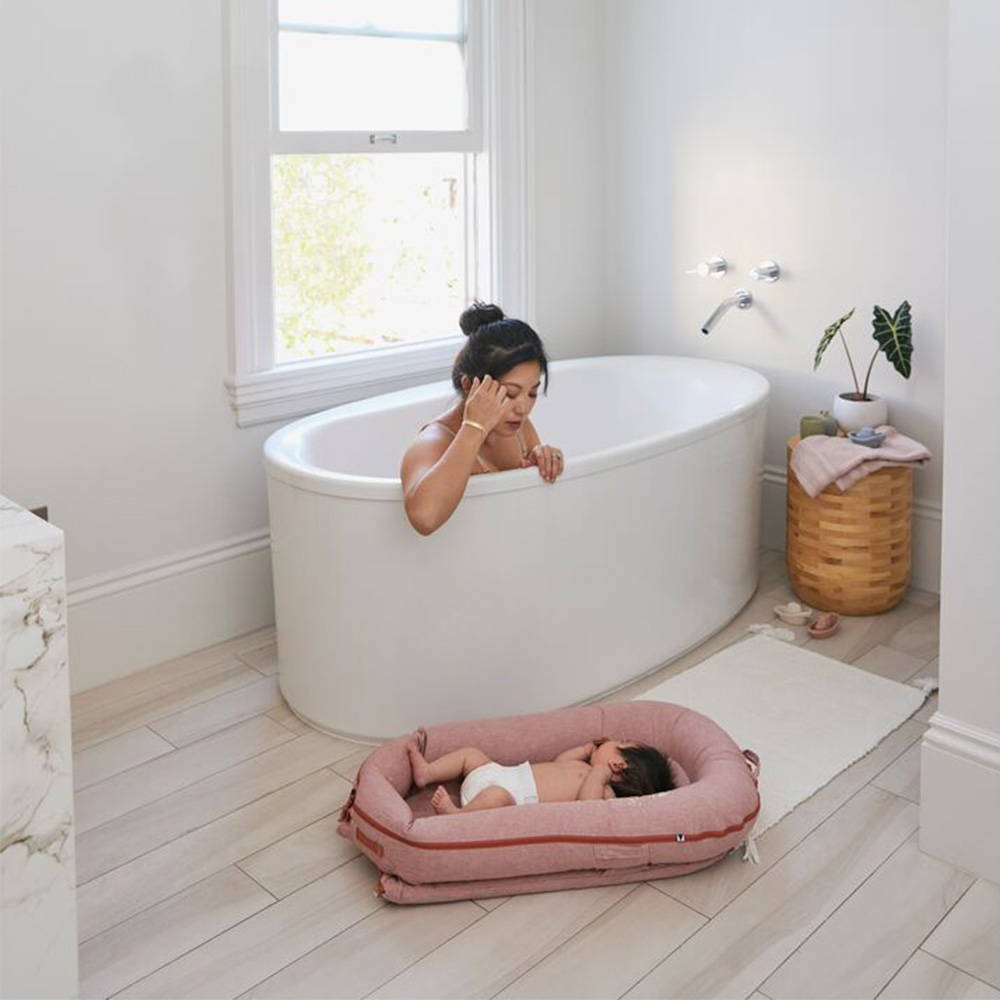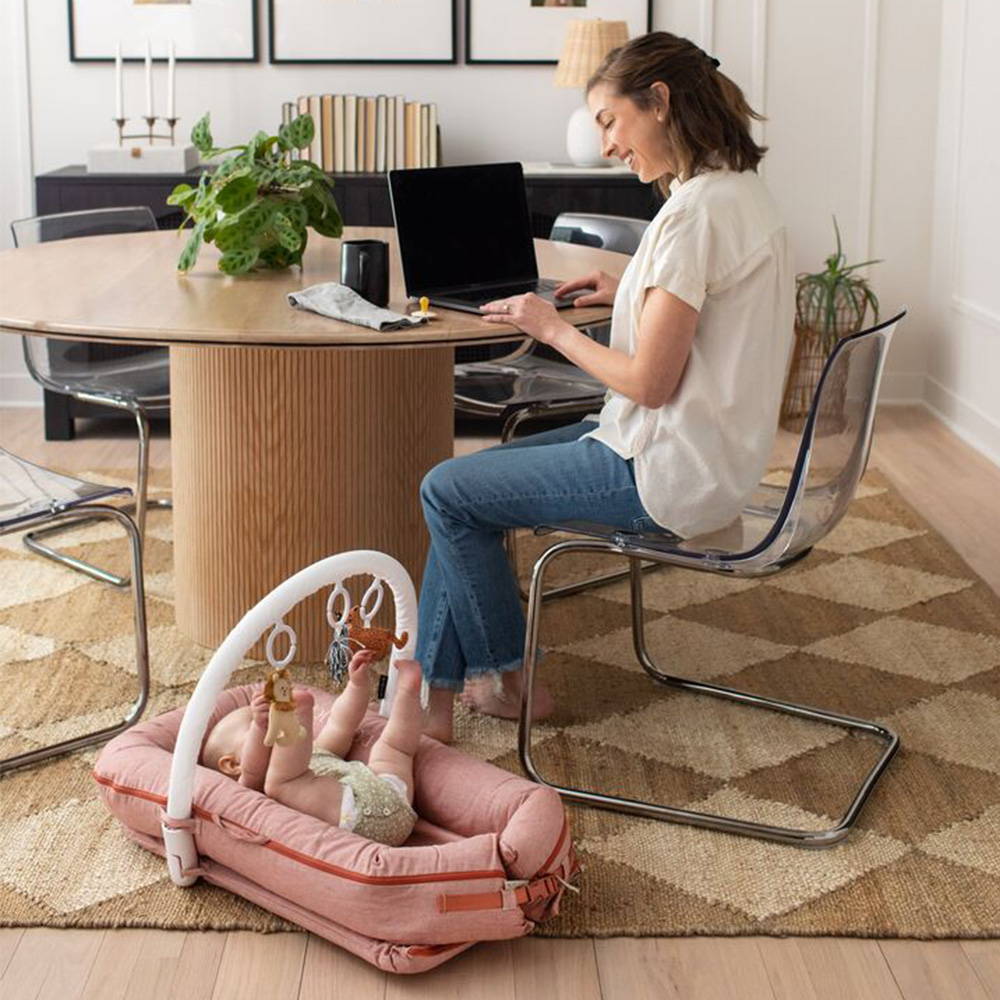 Whether it's pilates, yoga or HIIT, your time to stretch, exercise and move is precious and with a little one in tow can be difficult. With a Dock, your baby can be with you throughout the time that you need for yourself and be stimulated by your movements too.
From cooking to cleaning to working, your dock becomes a resource for you that is multi-functional and makes everyday life that much easier.
As your little one grows and develops, the dock provides essential support so they can spend time on their tummy whilst having their head elevated. You can place bright colours in front of them for stimulation too.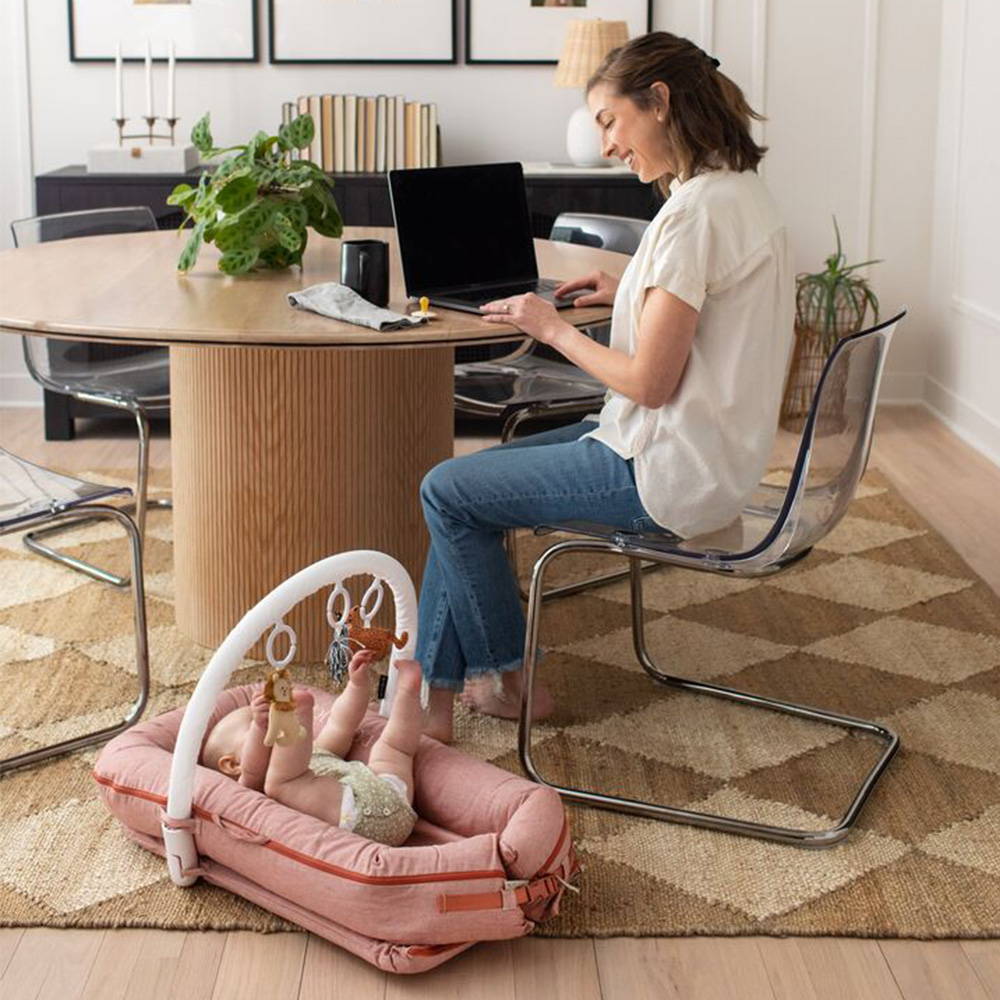 The Dock is so portable that it really can be taken anywhere, keeping your little one close to you at all times. If it's a work meeting or heading to a friend's house, you'll want to take this with you!
As your little one begins to grow and become more playful in their own little space, we've seen the docks turn into pirate ships, fancy cars and other imaginative playtime ideas.
Before your little one starts their weaning journey you'll still want to have the time to eat dinner with your family. The Dock provides a safe place for them to rest near you during this time so that you can continue to enjoy your meals!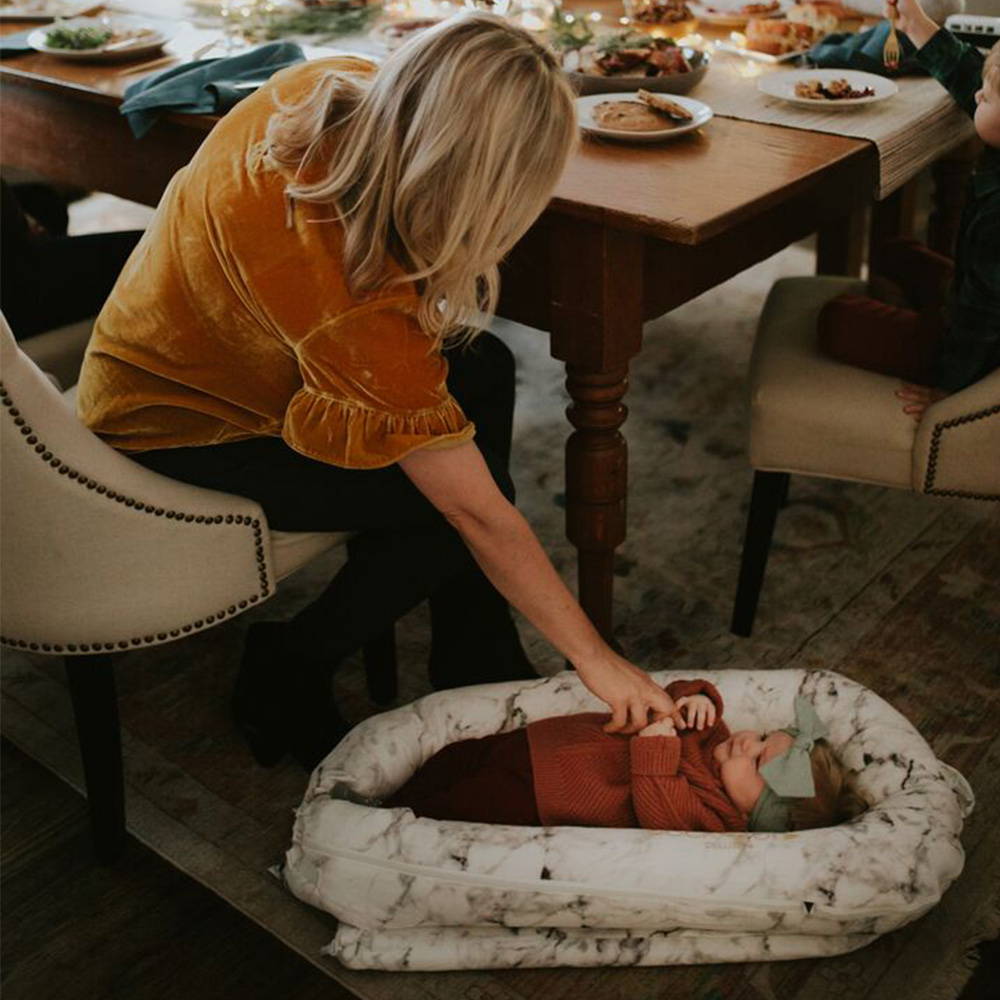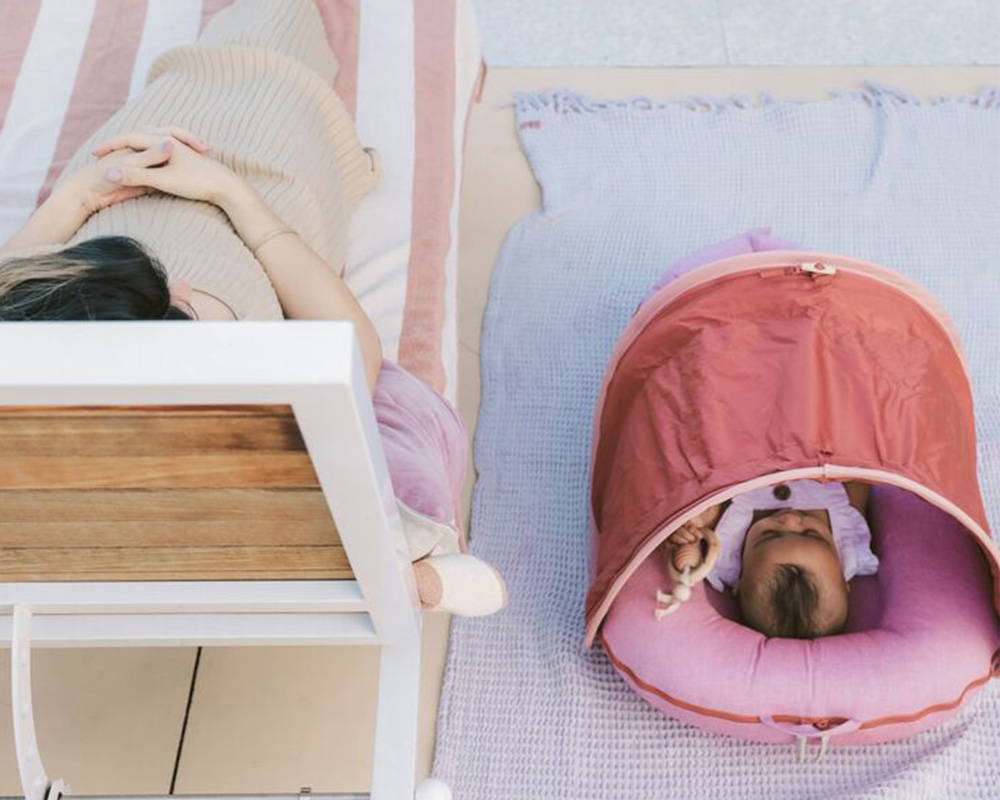 We all know the importance of having our children experience the outdoors. The easily washable dock provides a safe place for them to lie or have tummy time outdoors in a simple and effective way.
The Dock has its own attachable Cabana Kit which protects little ones from the sun. We've found this to be a perfect opportunity for you to relax next to the pool whilst they remain safe and sound.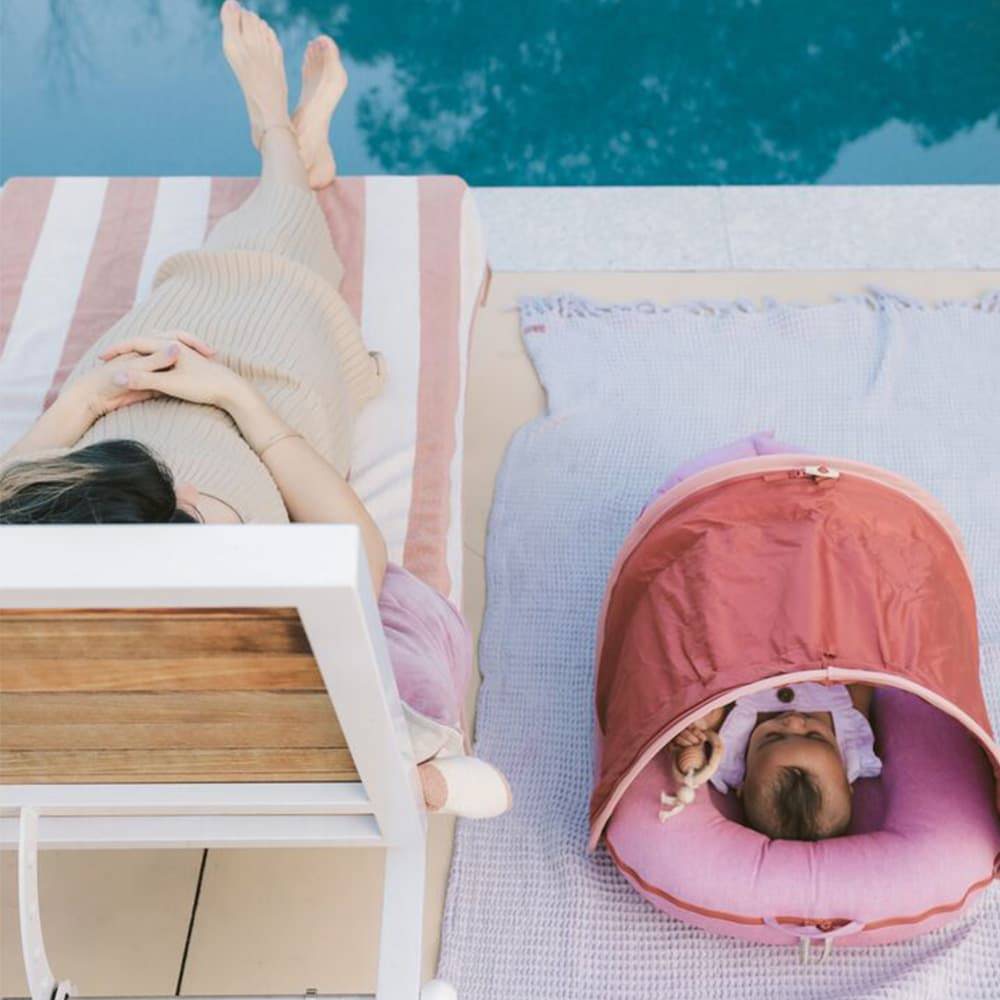 Why are these activities important?
The Docks are an on-the-go entertainment centre. Compatible with all your child's favourite things they can read, play and relax all in one place. It also becomes a sensory experience with what you've laid around them and from being in different places around the home as well as when out and about. These activities, like tummy time, encourage your little one to build neck strength and work on their fine motor skills. But, these aren't just important for your child. These activities are important for you so that you can achieve everything you need and want to in the day.
What additions are there to the Dock?
If you're looking for the additions for the Dock, for an entertainment and sensory experience you can easily attach the Toy Arch. If you wish to use your Dock outdoors you can attach the Cabana Kit which will protect the base as well as shade your little one. All the Docks have spare covers too, so if you need the availability to have one in the wash or you're changing your style regularly, they'll always be something to suit!
We hope that this has given you some inspiration on how versatile the DockATot range is. As one of the leading newborn essentials in the UK, we hope that you've got some new ideas on how these Docks can be used for so many different activities and parent needs!