Do you find the thought of choosing a nappy overwhelming, let alone the right size? It's not you! From speaking with new and expectant parents like yourself on a daily basis, we know the questions that come up all the time. So if you are wondering how to find the best nappy and choose the right nappy size, how many nappies your newborn will go through, how to put a nappy on and what to put into your changing bag, you're in safe hands! Considering reusable nappies but still on the fence? Read on! As the only brand giving you the option of eco nappies and reusable nappies, we have plenty of advice on both.
How do I choose the best nappy for my baby?
Choosing your baby's nappy is such a personal decision. Let's go through some of the factors you might want to consider.
Sizing
Disposable nappy sizes are generally quite similar across brands, although you might find some run a little bit smaller or bigger than others. Some brands also offer extra small or extra large options.
Price
From budget to premium and everything in between - there are plenty of options.
Environmental
To find a truly sustainable nappy, here's what to look out for:
A carbon-neutral production process
Plant-based materials against baby's skin
No chlorine or other nasty chemicals
Keep it simple – non-essential nappy features such as wetness indicators contain plastic and chemicals
FSC certified wood pulp
Brands that give back
What nappy size does a newborn need?
Wondering what size of nappy to pack in your hospital bag? It's not just you! Most of us want to be super prepared and take into account baby's projected birth weight. Real life quite often has other plans though, meaning that your little one's actual weight will likely be much higher or lower. But don't worry! Most newborns will fit into size 1 nappies for the first few weeks of their lives.

To ensure the nappy doesn't irritate baby's umbilical stump, look for one with an umbilical cord cut out. We love Kit & Kin eco nappies. Super cute and made from sustainable materials, they are better for baby and better for our world. Plus, each nappy subscription protects 5 rainforest trees forever!
How many nappies does a newborn need?
While all babies are different, you can expect to go through roughly 8-10 nappies every day with your newborn. This will reduce as your little one grows.
Best nappy size for my baby?
Weight brackets in nappies overlap by quite a bit. This is because two babies of the same weight can be a completely different build and height. This can make choosing the best size for your little one seem a little overwhelming. But don't worry, it's more straightforward than you might think.

To find out your baby's weight, step on your bathroom scales holding your little one and then deduct your own weight. You will now probably have the choice between two sizes. Bear in mind that the absorbency of the nappy increases with its size. If necessary, you can ensure a snug fit by overlapping the tabs on baby's tummy. Therefore, when in doubt, we would always recommend opting for the bigger size.

Check out our nappy size guide below to work out the best nappy size, and how many nappies you can expect to go through each day, for your baby's age and weight.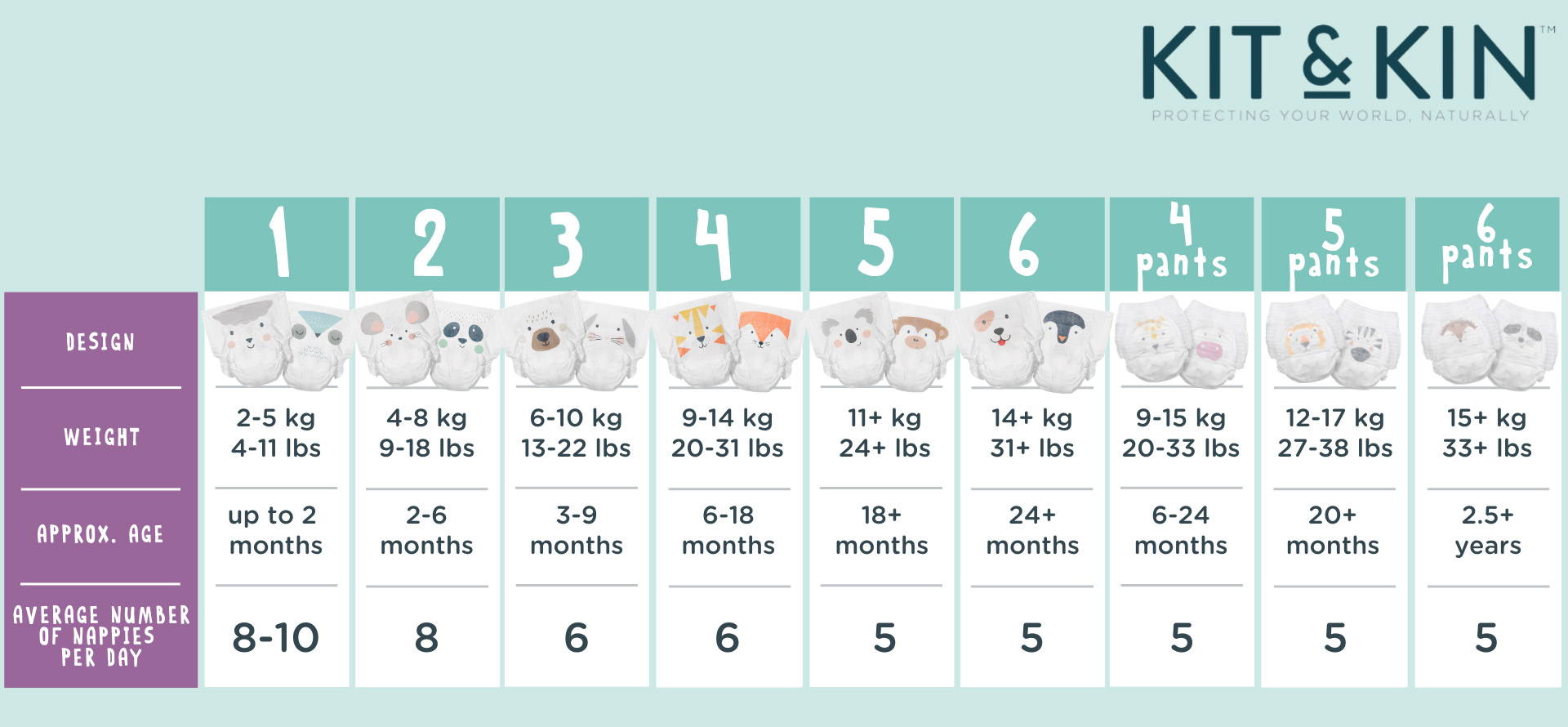 How do I fit baby's nappy?
Here are our tried and tested 5 steps to achieve the perfect nappy fit:
SIZE: The nappy should reach to just below baby's belly button. If you notice it sitting any lower, size up!
TABS: Fasten the front tabs until they nearly touch. This should be easy and effortless. If you are having to work hard to achieve this, try the next size up! Don't be afraid to overlap the tabs when baby has moved into a bigger size.
WAIST: You want a snug fit around the waist while giving baby enough room to breathe and move comfortably. To ensure this, check if you are able to fit two fingers under the waistband once fastened.
BUM: You want a looser fit below the waist. Baby's buttocks should be completely covered. This will be more comfortable and prevent leaks
LEG CUFFS: Untuck the material around the leg cuffs and ensure there aren't any gaps. The best way to do this is is by running a finger around each leg
What to include in my baby changing bag?
Here's what you need to think about packing in your baby changing back to help you be super prepared while on the go:
Changing mat
2-3 spare nappies
Nappy bags
Nappy cream
Wipes
Muslin
Toy or comforter
Spare clothing
Should I use reusable nappies?
Thankfully, more and more of us are trying to make environmentally conscious choices when it comes to the most basic of all baby items: the nappy. Are you on the fence about using reusable nappies (sometimes referred to as cloth nappies or washable nappies)? Looking at 4 simple factors will make your decision easier:
Convenience
Look into how to use reusable nappies including how to best store, wash and dry cloth nappies. Is it easier than you might think?
Skin tolerance
Reusable nappies are fantastic for babies with skin sensitivities. Ours even come with a 100% plant derived core, meaning only plant based materials will touch your baby's skin.

Environmental impact
Reusable nappies are a great eco-conscious choice because they can be reused for many years and even on multiple children.

Cost
The up-front cost is the main reason why many parents decide against reusable nappies. Have a think about how many you will actually need. We recommend between 3 (for part-time use) and 20 for a full-time use and full washing loads.

To find answers to all your reusable nappy questions, have a look at this extensive guide to learn:
How to use, store and wash reusable nappies
How to choose a nappy that's extra gentle on baby's skin
How to lower your environmental impact with reusables even more
How to calculate the expected cost of the reusable nappies
Most importantly, please don't worry if you still can't completely make your mind up! Remember that when it comes to reusable nappies, it doesn't have to be all or nothing.
---