With so many makes and models of car seat to choose from, it's easy to feel a little overwhelmed. Luckily, Mamas & Papas have got you covered with our car seat buying guide.
---
Finding the perfect fit
Which Car Seat Do I Need for My Child?
Wouldn't it be easier to do like our parents and tie the pushchair up in the boot of the estate? Maybe. But it's not going to be as safe. Thankfully, our best baby car seat buying guide will walk you through the most important things you need to know. Once you know what to look for, making an informed choice will be a breeze!
To get you started, below is a chart to guide you to the right size seat for your little one.
| | | | |
| --- | --- | --- | --- |
| Group | Child's Weight | Age | Height |
| | | | |
| | | 9 months - 4 years (rear facing) 4 - 12 years (toward facing) | |
| | | | |
| | | Birth - 4 years (rear facing) 4 - 12 years (toward facing) | |
---
Car Seat Safety Standards
When it comes to car seats, it's all about safety. The first thing you need to know about is car seat safety regulations. Not as gripping as Girl on the Train but definitely more important.
There are two alternative safety standards currently in place in the EU: weight-based and height-based.
---
Weight-based standard:
Snazzily known as ECE R44, this standard regulates which seat your baby, toddler or child should use according to their weight. It's divided as follows:
Babies must use a rear-facing carrier, a baby seat with a harness, or a lateral baby carrier.
From 0 to 13kg (group 0+)
Your child cannot use a lateral baby carrier any more, but you can still use a rear-facing seat or carrier
From 9kg to 18kg (group 1)
Your child can use either rear or forward-facing seats with a harness or safety shield. Babies can move to a forward-facing toddler car seat when they reach 9kg, however, it's safer to keep your baby in the rear-facing position until they reach the top weight for group 0+ car seats (13kg or around 15 months old). Keeping your child in this position better protects against head and neck injuries should you experience a crash.
From 15kg to 25kg (group 2) and 22kg to 36kg (group 3)
Children can start using a booster seat with a harness or seatbelt in the back seat of the car.
---
Belted or Fixed: Fitting a Car Seat
Traditionally, car seats are fitted to the car using a seatbelt. It might be relatively easy to find a belted car seat, but they can be a pain in the bumbag to fit!
If you want to ensure your seat is properly attached, find a seat with an ISOFIX base. ISOFIX bases attach to the frame of your car, and the seat then attaches to them. This makes it even easier to position and remove the seat which, trust us, will definitely come in handy. Also, most ISOFIX bases have a colour display that lets you know whether the seat is correctly attached.
Don't forget to make sure that your car is ISOFX compatible. Read the vehicle owner's manual carefully or contacting the manufacturer.
---
Height Based Standard (i-Size)
This R129 standard, better known as i-Size to its friends, uses the length of the child to classify which car seat your child should use. This guideline is newer, and meant to gradually replace ECE R44. Therefore, we recommend you buy an i-Size compliant car seat. If you're still unsure, you can find out more by booking a free, personal shopping consultation with us. Find your nearest store here.
The key point is that i-Size requires a child to use a rear-facing seat for longer (until they are at least 18 months old). For greater safety, i-Size seats are fixed using an ISOFIX base.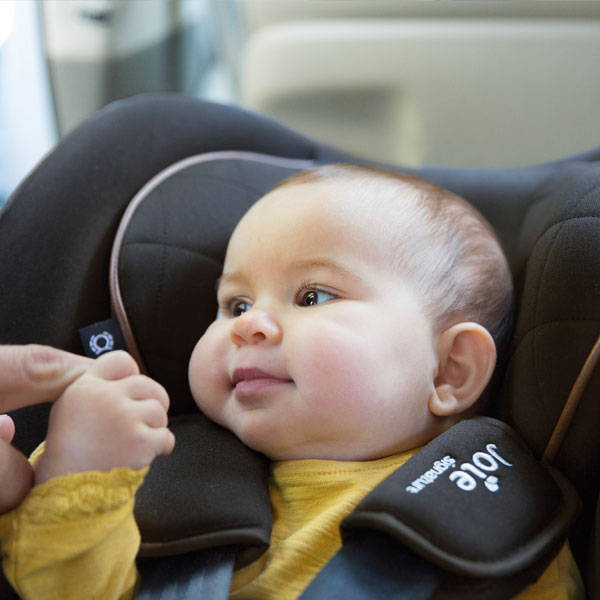 ---
Car Seat Buying Guide
Other Safety Considerations
It goes without saying that seats with more padding provide additional protection and comfort for your little one. You may also want to look for a seat with an impact shield instead of a harness. Shields carry less risk of friction and neck strain in case of impact. They are also harder for your child to open or slip out of when they get fidgety or bored. Some car seats also provide Side Impact Protection for lateral impacts, or extra cushioning around the head and upper body.
Safety is obviously the most important consideration when choosing a car seat, but since all models have to adhere to one of the two safety standards, this might only narrow down your choices so much, meaning you can start to think about the little things that make a big difference, such as baby's comfort and ease of installation.
This is where getting a demo of a seat being fitted comes in handy (did we mention we do that in store?): you can make sure that the seat fits in your car. Also, make sure the instructions for the seat are clear and easy to follow.
If you plan on hitting the open round a lot then make sure baby is comfortable by choosing a reclining seat. As mentioned above, a well-padded seat will be more comfortable for your little one. Some seats come with ventilation, a good idea if you are a frequent traveller or live somewhere warm.
Let's not beat around the bush – yes, you want baby to be safe and comfortable, but you're the one lugging this hefty thing around, so comfort is key for you too. Look for a light one – you don't want to be carrying around any more weight than you have to, as some seats can be quite heavy.
For an extra-adaptable option, look for a travel system-compatible seat – they will usually be compatible with most pushchairs, and you'll easily be able to move baby in and out of the car with minimal fuss.
Strapping babies into rear-facing seats can be a faff, which is why some seats rotate 360º. This is another way to save time and minimise fuss. This kind of seat can be used facing either forwards or backwards, so it will last longer than a regular rear-facing seat – even better!
It's important to keep everything around baby clean, including their car seat. Make sure to look for a seat where the covers are easy to remove and machine washable.
Car seats come with many different systems to adapt to baby's growth. Harnesses are usually adaptable, but look for ones that can be adjusted one-handed – they will make your life easier.
The headrests and even side-wings of some seats have several positions, so you can adjust them as your little one grows. Padding can usually be inserted and removed as needed. Some newborn-appropriate car seats are reducible, which is great if your baby is premature or smaller than average.
---
Stay away from second-hand car seats
We all love a bargain but before you trawl through eBay, hold off. It can be tempting to buy a second-hand car seat if you're on a budget. However, second-hand car seats could have been involved in accidents. This may affect the level of safety protection for your child. Even if a car seat is offered by someone you know, and you have access to its history, chances are it has some internal wear and tear. This will make the seat weaker, providing less protection for your child.
There's also a possibility that the seat may no longer comply with current car seat regulations. For optimum safety, it's best to buy your car seat in new condition from a trusted manufacturer.
Selecting a Trusted Retailer
Now it's time to choose a store that sells car seats to match your baby or child's requirements. What's that? You want to try Mamas & Papas? Well, don't let us stop you! We stock a large range of car seats from trusted designer brands such as Maxi-Cosi and Cybex that are rigorously tested while delivering on quality and style.
Car Seat Buying Guide
Try Before You Buy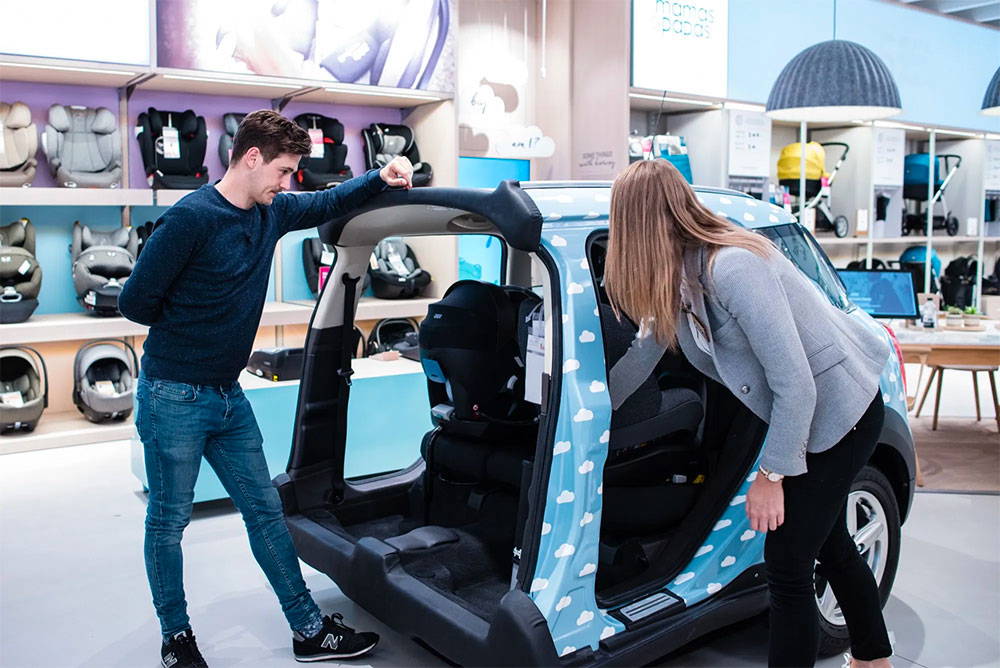 Before buying a seat, you want to make sure it fits not just your car, but any other car where your baby will be regularly travelling, such as granny or grandpa's cars. Despite the rules of Shotgun, seats and carriers should not be placed in the front seat, especially if the baby car seat is backwards-facing and there is an active airbag. Side airbags in rear seats, however, do not pose a safety issue. Focus on checking that the seat fits properly in the back of the car – a properly fitted car seat should not move around.
At Mamas & Papas, we offer a free car seat consultation and a personal shopping service, which is also great for car seats. You can get information and advice on finding the right car seat. We even offer demonstrations on fitting your seat from one of our trained advisors in-store. We offer appointments before your baby is born, as well as check-ups once they arrive and after 6 months.
---
So that's our car seat buying guide. Not as dry as you first though, eh?
Now you know all about the features of car seats and their advantages, you can tailor your choice to your lifestyle, without compromising on quality. If nothing else, this guide should show that while you need to prioritise safety, with the amount of safe seats available, there should be no obstacle to finding a seat that will grow with your child, is comfortable, safe and fits your car and lifestyle.
If you're wanting to make your perfectly chosen car seat part of your flash new travel system, be sure to check out our Pushchair Buying Guide too.