We're excited to announce that premium baby brand Nuna has launched its fashionable new line of pushchairs, the Riveted collection – and it's exclusive to Mamas & Papas. The Riveted collection adds a new, contemporary twist to Nuna's already varied collection of baby travel products, striking a perfect balance between originality and elegance.
For those looking for more than just baby gear, the Riveted collection is perfect for style-conscious parents who want to stand out from the crowd. The Riveted pushchairs pair metal detailing, rich textures, and deep neutral colours with hints of bronze and copper notes. From bronze metallic zippers, snaps, and rivets to soft, chocolate brown vegan leathers set against a glossy black frame – the collection is warm and luxurious with a timeless elegance. 
---


What products are included in the Riveted collection?
Nuna has redefined its classic style with the new travel collection, across three of its pushchairs and carrycots. The MIXX next, the DEMI grow and the TRIV, as well as it's versatile and lightweight car seat, the PIPA next, have all received the Riveted makeover for 2021. Although each travel accessory offers something unique, they all have one thing in common –  bold, modern sophistication.
---


The Nuna MIXX next: Riveted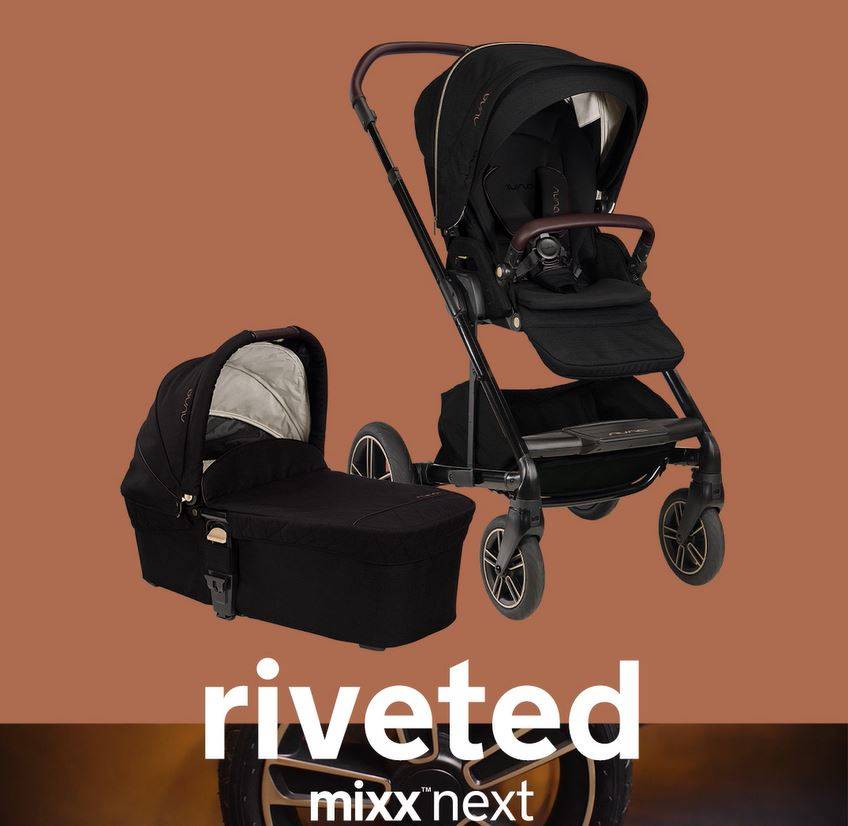 The MIXX next pushchair is suitable for babies from birth up to 22 kg. It's expertly designed to make life as smooth as possible for parents – it's fitted with a one-hand recline for on-the-go relaxing, all wheel suspension and a one-touch brake system with front swivel wheel locks. The pushchairs new retracting wheel makes it even more compact – so parents can manoeuvre it into the tightest of spaces. And when it's folded, the rear wheels automatically fold into the frame. Equipped with an all-season seat that'll keeps baby cosy in winter and cool in summer, the MIXX next pushchair is ready to go, come rain or shine. The extendible UPF 50+ canopy is water repellent and also features a flip out eyeshade and ventilation panel providing full coverage – whatever the weather.
The MIXX next carrycot is also a proud member of the Riveted collection. It's suitable for use from birth to 9 kg and connects swiftly to the MIXX next pushchair frame with just a click, allowing your little one's naptime to continue uninterrupted. Luxurious fabrics, a built-in Dream drape™ and ventilated panels for warmer months make the carrycot, the perfect accessory for newborns, keeping them cosy and secure.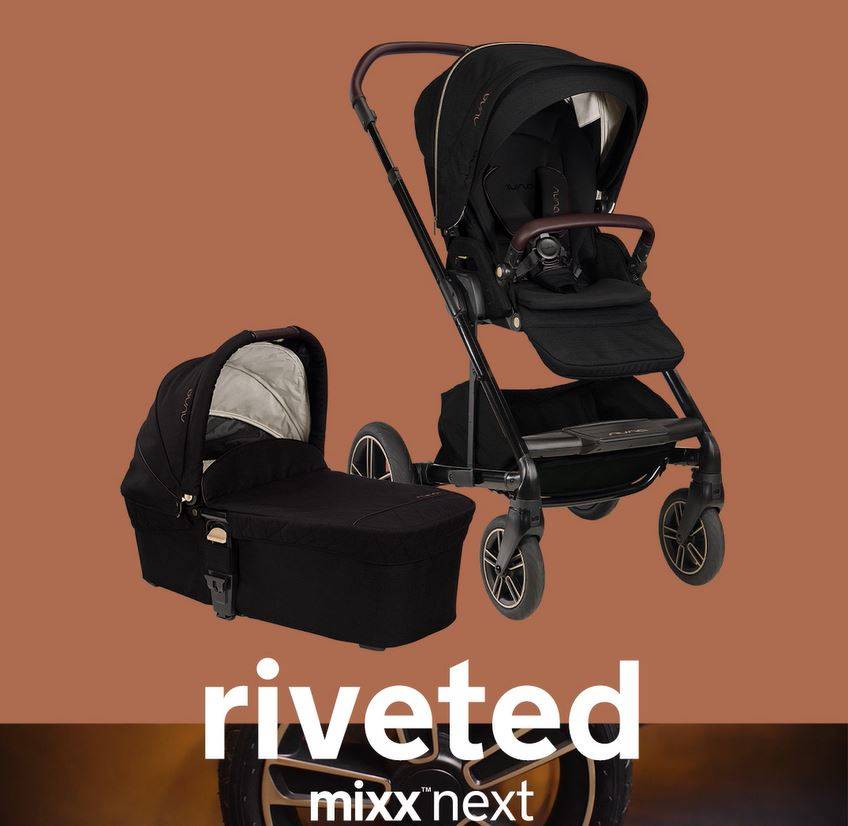 ---


The Nuna DEMI grow: Riveted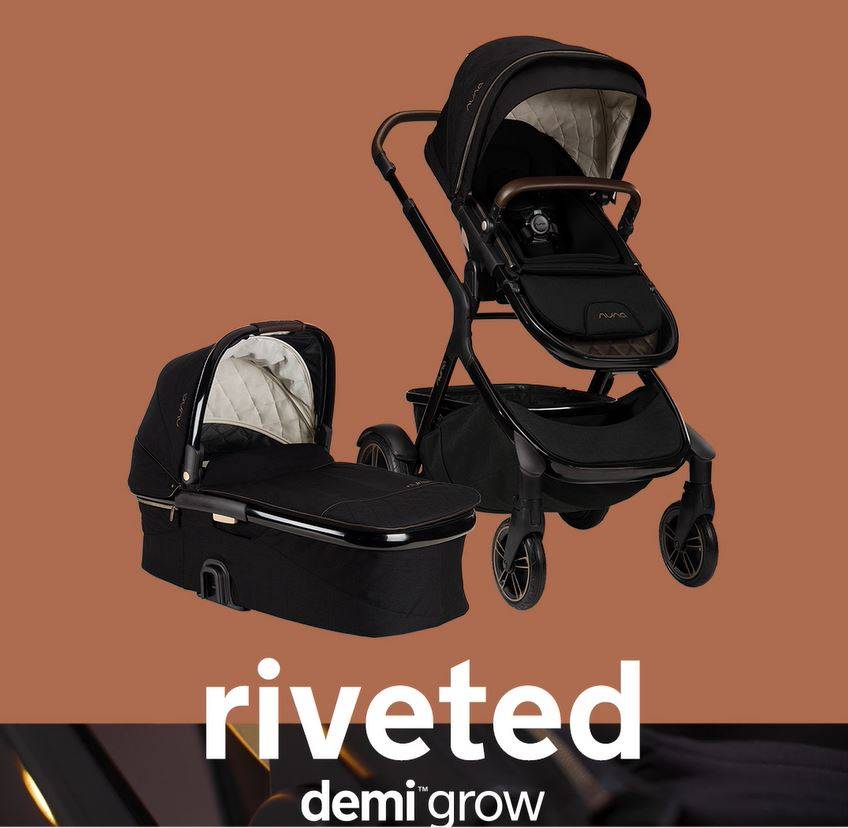 The Nuna DEMI grow pushchair has been designed to make life more comfortable for babies and easier for parents. Packed with stunning extras and design flourishes, the DEMI grow combines an all-season seat, swanky storage system and the ability to convert effortlessly from a single to a double or twin stroller – taking whatever life has in store for you in its stride. The pushchair is travel system-ready, easy to fold and by flipping the seat you can quickly switch to either carry seat or car seat mode. With loads of wriggle room as well as tough, foam filled wheels and progressive custom dual suspension, it delivers a smooth ride, even on difficult terrain.

The DEMI grow carrycot allows you to stroll little ones straight into the land of nod in true style. It connects quickly and easily to the pushchair frame, and easily doubles up for twin mode. Packed with all the usual great features including the oversized, extendable UPF 50+ canopy, ventilation panels and a compact flat fold. What's more, the luxury fabrics are removable and machine washable, because accidents do happen!
---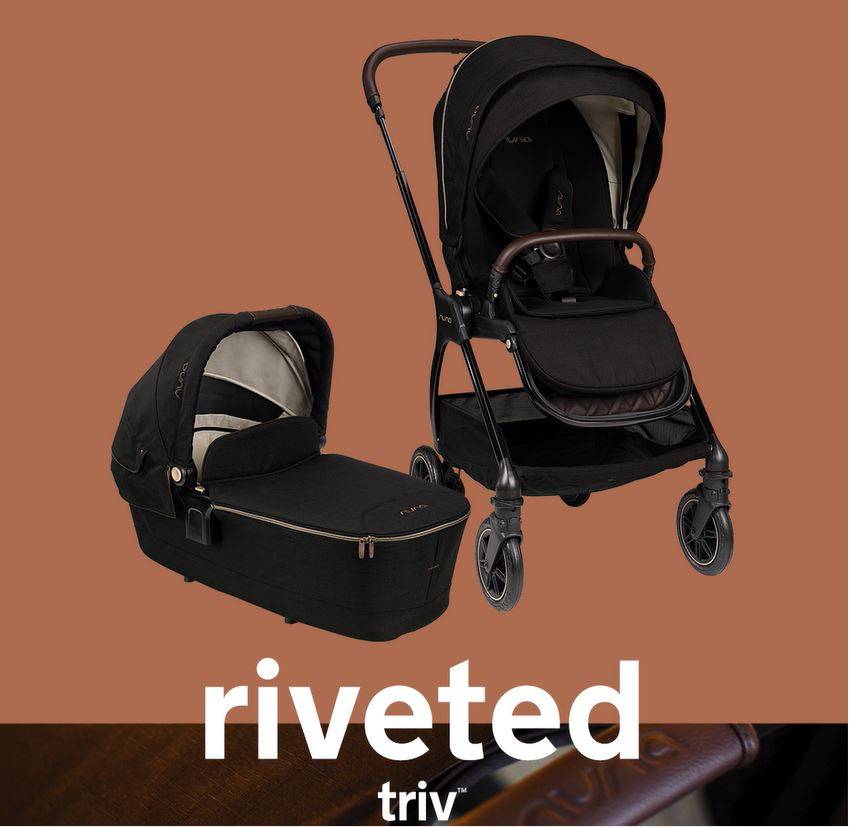 Perfect for city living parents or jet-setting travellers, this fully featured compact pushchair has an easy-to-fold flat design, oversized storage basket and easy-to-flip fold seat – making it the perfect travel companion. All of the features are designed to ensure a smooth ride – even on uneven terrain – as well as easy manoeuvrability for parents. From its one-hand adjustable push bar and quick-release, five point no-rethread harness to its all-wheel suspension, one-touch brake and front swivel wheel locks – the TRIV travel pushchair is ready for every journey.

Equipped with Nuna's Ring Adapter, the TRIV is also travel system ready – in just one quick click it can switch from pushchair to car seat mode. The Ring Adapter even folds easily down with the pushchair so there's no need to spend time removing it.

The TRIV carrycot easily attaches to your TRIV pushchair using the included bayonet adapters. Finished with luxurious fabrics, a built-in Dream drape™, it's the perfect travel accessory for newborns, keeping them cosy and secure - ideal for your everyday adventures.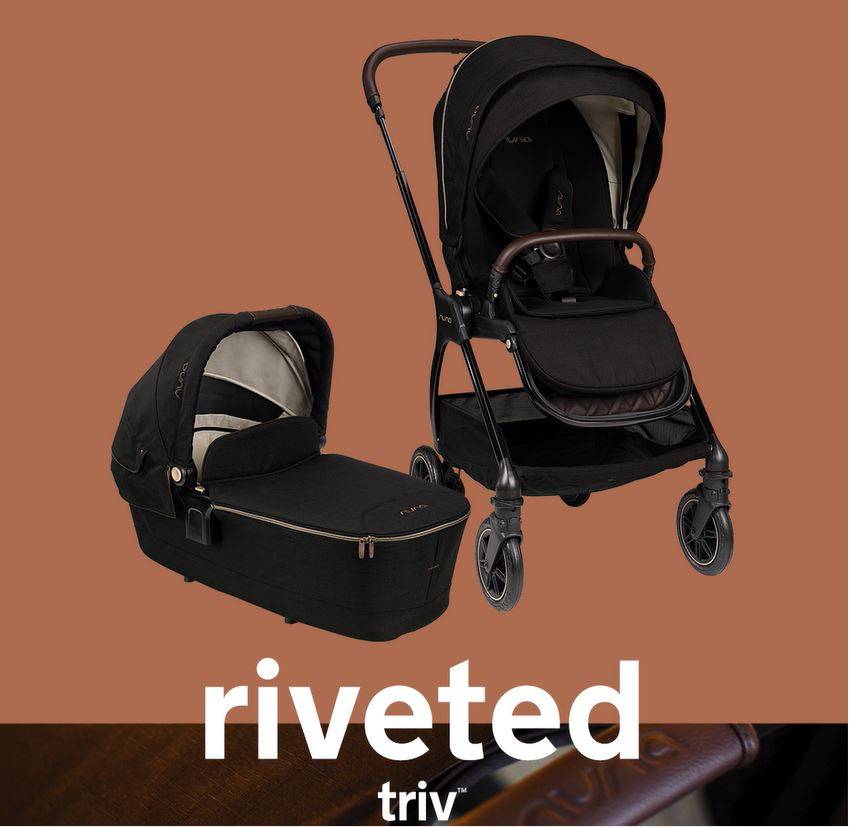 ---


The Nuna PIPA next: Riveted
At just 2.8kg, the PIPA next car seat is lightweight, protective, and portable, making it the perfect travel companion. Thanks to the option of belt path or base installation it's versatile enough to take from a taxi to a family car, making it ready for every journey. The car seat is i-Size approved and designed to ensure little ones are cosy and safe every step of the way. It's also fitted with side impact protection on the base, with built-in wings that automatically deploy when the car seat is installed. All features are designed to make life easier for parents and include a no re-thread, three-point harness which works with one hand and a five-second True lock™ base installation which makes setting up swift, simple and secure.
---
We think that the detailed design of Nuna's new Riveted collection of baby travel must-haves is unique and imaginative. Crafted for pure sophistication, Nuna has used the finest textiles and thoughtful design, right down to the smallest detail – sure to redefine fashionable travel for parents.
---